The owner of Sonali Restaurant takes great pleasure in inviting as many of the residents of Pocklington and district to join them at their new restaurant and enjoy a special evening.
Sonali is the new face of the 'Cherry Tree' restaurant. It has been completely refurbished and has a great new ambience which provides a delightful experience and offers a wide selection of delicious Indian cuisine.
Great care has been taken to ensure our menu is building on traditional recipes and adding new and exciting items such as fish and duck dishes. Particular favourites include the 'Bengali' style Sonali Special and Shatkora. All our herbs and spices are specially selected to bring out the very best of taste. We are sure these will excite the palate, whatever level of flavour you require. Our staffs are highly knowledgeable and above all are on hand to ensure that you have all the help you need to have a great meal.
At our other restaurant we are consistently rated at 5 stars for our Food, Service, Quality ad Value. Sonali is fully licensed and has a small bar and restaurant waiting area. We offer a wide range of wines, traditional and Indian bottled and draught beers. With seating for over 90, in three dining areas, Sonali has a cosy and cheerful atmosphere. It is perfect place for a meal with loved ones, parties or that special celebration. Patrons are welcome to come along and enjoy the experience of great freshly prepared food and have their tastebuds taken to different level.
The restaurant is in the centre of town with excellent free parking.

Opening hours: Monday to Sunday from 5pm till late.
Our food hygiene rating:
Sonali Indian Restaurant
YO42 2AJ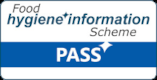 (click to see more details on Food Standars Agency's website)